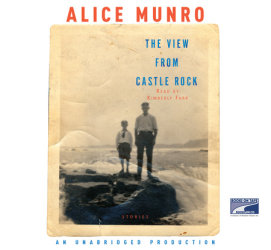 The View from Castle Rock
Imprint: Books on Tape
Genre: Fiction - Literary

Release Date: November 07, 2006
11 Hours and 47 Minutes
List Price: $85.50
ISBN: 9780739349304
In stories that are more personal than any that she has written before, Alice Munro pieces her family history into gloriously imagined fiction.

A young boy is taken to Edinburgh Castle Rock, where his father assures him that on a clear day he can see America, and he catches a glimpse of his father's dream. In stories that follow, as the dream becomes a reality, two sisters-in-law experience very different kinds of passion on the long voyage to the New World. Other stories take place in more familiar Munro territory, the towns and countryside around Lake Huron, where the past shows through the present like the traces of a glacier on the landscape, and strong emotions stir just beneath the surface of ordinary comings and goings.

Evocative, gripping, sexy, unexpected–these stories reflect a depth and richness of experience. The View from Castle Rock is a brilliant achievement from one of the finest writers of our time.