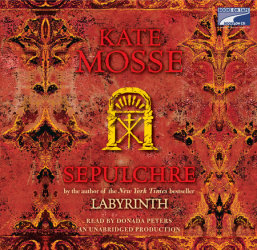 Sepulchre
Imprint: Books on Tape
Genre: Fiction - Occult & Supernatural

Release Date: April 22, 2008
20 Hours and 18 Minutes
List Price: $95
ISBN: 9781415954515
October 1891: Seventeen-year-old Léonie Vernier and her brother, Anatole, abandon the gaslit streets of Paris for the sleepy mountain town of Rennes-les-Bains in southwest France. They've come at the invitation of their widowed aunt, whose estate, the Domaine de la Cade, is famous in the region. But their aunt, and the Domaine, are not what Léonie had imagined. Aunt Isolde is young, willowy, and beautiful, yet with a melancholy air that suits the slightly sinister Domaine. Léonie discovers that the isolated country house and its ancient forests have long been the subject of local superstition; when she stumbles across a ruined Visigoth sepulchre, she unwittingly involves herself with the timeless mystery of this eerie place, which may be spelled out in a strange pack of tarot cards that is rumored to hold the power of life and death. While Léonie delves deeper into the secrets of the Domaine, a different evil stalks her family–one that may explain why Léonie and Anatole were invited to Rennes-les-Bains in the first place.

October 2007: More than a century later, Meredith Martin, an American graduate student, arrives in Rennes-les-Bains. She checks into a grand old hotel–the Domaine de la Cade–and almost instantly, strange dreams and visions begin to haunt her waking hours. A chance encounter leads her to a pack of tarot cards painted by Léonie Vernier, which may hold the key to this twenty-first-century American's fate . . . and explain the ties that bind the two women together.

As the Feast of All Saints approaches–when the veil between life and death is thinnest–Meredith is drawn inexorably to a secluded forest glade where the secrets of the past are far from buried.