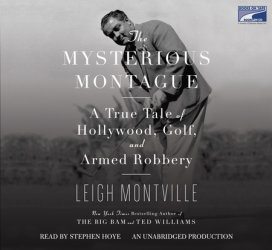 BOT Exclusive
The Mysterious Montague
A True Tale of Hollywood, Golf, and Armed Robbery
Imprint: Books on Tape
Genre: Biography & Autobiography - Sports

Release Date: May 20, 2008
8 Hours and 30 Minutes
List Price: $76
ISBN: 9781415949719
He was a 1930s golf legend and Hollywood trickster who adamantly refused to be photographed. He never played professionally, yet sports-writing legend Grantland Rice still heralded him as "the greatest golfer in the world." Then, in 1937, the secrets of John Montague's past were exposed—leading to a sensational trial that captivated the nation.

From three-time New York Times bestselling author Leigh Montville

John Montague was a boisterous enigma. He had a bagful of golf tricks, on and off the course. He could chip a ball across a room into a highball glass, and knock a bird off a wire from 170 yards—and when the big man arrived in Hollywood in the early 1930s, he quickly became a celebrity among celebrities. He lived for a time with Oliver Hardy (whom he could lift, one-handed, onto the country club bar) and played golf with everyone from Howard Hughes and W. C. Fields to Babe Ruth and his close friend Bing Crosby, whom he famously beat while playing only with a rake, a shovel, and a bat. Yet strangely Montague never entered a professional tournament, and in a town that thrived on publicity, he never allowed his image to be captured on film.

The reasons became clear when a Time magazine photographer snapped his picture with a telephoto lens … and police in upstate New York quickly recognized Montague as a fugitive wanted for armed robbery. As Montague was indicted in the tiny upstate town of Jay, New York, hordes of national media descended and turned a star-studded legal carnival into the most talked about trial of its day – the trial of "the Mysterious Montague."

From the glamour of 1930s Hollywood, to John Montague's extraordinary skill and triumphs on the golf course, to the shady world of Adirondack rumrunners and bootleggers, three-time New York Times bestselling author Leigh Montville captures a man and an era with extraordinary color, verve, and energy. The Mysterious Montague is Leigh Montville's most entertaining achievement to date.