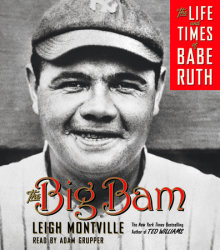 BOT Exclusive
The Big Bam
The Life and Times of Babe Ruth
Imprint: Books on Tape
Genre: Biography & Autobiography - Sports

Release Date: April 24, 2007
15 Hours and 39 Minutes
List Price: $95
ISBN: 9781415944325
He was the Sultan of Swat. The Caliph of Clout. The Wizard of Whack. The Bambino. And simply, to his teammates, the Big Bam. From the award-winning author of the New York Times bestseller Ted Williams comes the thoroughly original, definitively ambitious, and exhilaratingly colorful biography of the largest legend ever to loom in baseball—and in the history of organized sports.

"[Montville is] one of America's best sportswriters." —Chicago Tribune

Babe Ruth was more than baseball's original superstar. For eighty-five years, he has remained the sport's reigning titan. He has been named Athlete of the Century . . . more than once. But who was this large, loud, enigmatic man? Why is so little known about his childhood, his private life, and his inner thoughts? In The Big Bam, Leigh Montville, whose recent New York Times bestselling biography of Ted Williams garnered glowing reviews and offered an exceptionally intimate look at Williams's life, brings his trademark touch to this groundbreaking, revelatory portrait of the Babe.

Based on newly discovered documents and interviews—including pages from Ruth's personal scrapbooks —The Big Bam traces Ruth's life from his bleak childhood in Baltimore to his brash entrance into professional baseball, from Boston to New York and into the record books as the world's most explosive slugger and cultural luminary. Montville explores every aspect of the man, paying particular attention to the myths that have always surrounded him. Did he really hit the "called shot" homer in the 1932 World Series? Were his home runs really "the farthest balls ever hit" in countless ballparks around the country? Was he really part black—making him the first African American professional baseball superstar? And was Ruth the high-octane, womanizing, heavy-drinking "fatso" of legend . . . or just a boyish, rudderless quasi-orphan who did, in fact, take his training and personal conditioning quite seriously?

At a time when modern baseball is grappling with hyper-inflated salaries, free agency, and assorted controversies, The Big Bam brings back the pure glory days of the game. Leigh Montville operates at the peak of his abilities, exploring Babe Ruth in a way that intimately, and poignantly, illuminates a most remarkable figure.