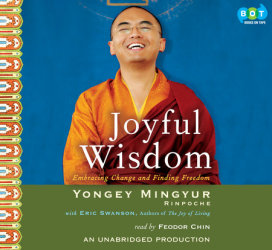 Joyful Wisdom
Embracing Change and Finding Freedom
Imprint: Books on Tape
Genre: Religion - Buddhism - Rituals & Practice

Release Date: April 07, 2009
9 Hours and 14 Minutes
List Price: $66.50
ISBN: 9781415960233
Yongey Mingyur is one of the most celebrated among the new generation of Tibetan meditation masters.

His new audiobook, Joyful Wisdom, addresses the timely and timeless problem of anxiety. "From the 2,500-year-old perspective of Buddhism," Yongey Mingyur writes, "every chapter in human history could be described as an 'age of anxiety'." So what do we do? Escape or succumb? "Buddhism," he says, "offers a third option. We can look directly at the disturbing emotions and other problems we experience in our lives as stepping-stones to freedom."

Joyful Wisdom identifies the sources of our unease, describes methods of meditation that enable us to transform our experience into deeper insight, and applies these methods to common emotional, physical, and personal problems.