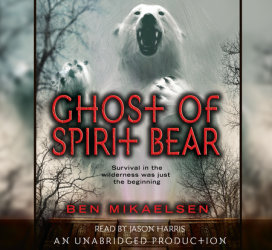 Ghost of Spirit Bear
Imprint: Listening Library
Grades: Grade 7 & Up
Ages: 12 and up
Release Date: July 15, 2008
3 Hours and 42 Minutes
List Price: $25.50
ISBN: 9780739372630
Alone in the wilderness, Cole found peace. But he's not alone anymore.

Cole Matthews used to be a violent kid, but a year in exile on a remote Alaskan island has a way of changing your perspective. After being mauled by a Spirit Bear, Cole started to heal. He even invited his victim, Peter Driscal, to join him on the island and they became friends.

But now their time in exil is over, and Cole and Peter are heading back to the one place they're not sure they can handle: high school. Gangs and violence haunt the hallways, and Peter's limp and speech impediment make him a natural target. In a school where hate and tension are getting close to the boiling point, the monster of rage hibernating inside Cole begins to stir.