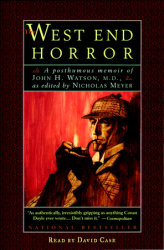 The West End Horror
A Posthumous Memoir of John H. Watson, M.D.
Imprint: Books on Tape
Genre: Fiction - Mystery & Detective - Collections & Anthologies

Release Date: May 26, 2009
5 Hours and 15 Minutes
List Price: $47.50
ISBN: 9780307702494
Learn more about The Great Detective Sherlock Holmes in The West End Horror.


Illustration by David K. Stone.