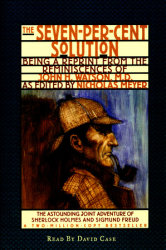 The Seven-Per-Cent Solution
Being a Reprint from the Reminiscences of John H. Watson, M.D.
Imprint: Books on Tape
Genre: Fiction - Mystery & Detective - Collections & Anthologies

Release Date: May 26, 2009
6 Hours and 43 Minutes
List Price: $57
ISBN: 9780307702456
This "rediscovered" Sherlock Holmes adventure recounts the unique collaboration of Holmes and Sigmund Freud in the solution of a mystery on which the lives of millions may depend.
Illustration by David K. Stone.