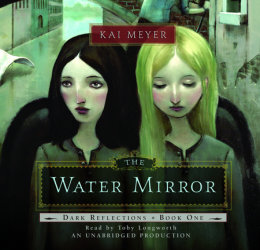 The Water Mirror
Dark Reflections Book 1
Imprint: Listening Library
Grades: Grade 7 & Up
Ages: 12 and up
Release Date: June 27, 2006
6 Hours and 3 Minutes
List Price: $38.25
ISBN: 9780739345252
In Venice, magic is not unusual. Merle is apprenticed to a magic mirror maker, and Serafin–a boy who was once a master thief–works for a weaver of magic cloth. Now, Venice is under siege by the Egyptian Empire; its terrifying mummy warriors and flying sunbarks are waiting to strike. All that protects the Venetians is the Flowing Queen. Nobody knows who or what she is–only that her power flows through the canals and keeps the Egyptians at bay.
When Merle and Serafin overhear a plot to capture the Flowing Queen, they are catapulted into desperate danger. They must do everything they can to rescue the Queen and save the city.
Kai Meyer's bold, original fantasy conjures up a land of magic and menace as Merle and Serafin begin a journey to unimagined realms in the extraordinary world of Dark Reflections.