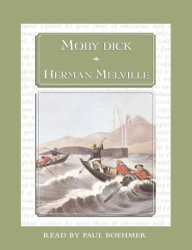 Moby Dick
Imprint: Books on Tape
Genre: Fiction - Classics

Release Date: December 18, 2007
24 Hours
List Price: $95
ISBN: 9781415951576
"Call me Ishmael" is one of the most familiar and oft-quoted opening lines ever written. Although it was originally published in 1851 to little success or acclaim, Moby Dick is generally regarded as Herman Melville's masterpiece and in many circles as the Great American Novel.
    Melville's epic story of Captain Ahab's obsessive hunt for the great white whale recalls Job in his quest for justice and Oedipus on his crusade for the truth. The tragic figure of Ahab, in whom virtuous and murderous impulses coexist, speaks for the defeats and triumphs of the human spirit. The richness of Melville's prose and the story's sweep are Shakespearean in their grandeur and symbolic power. Moby Dick remains the measure of literary achievement against which all subsequent American novels must be measured.
    This edition of Moby Dick is the companion volume to the Hallmark Entertainment television presentation, broadcast on USA Network.
   Enter the Moby Dick sweepstakes at www.usanetwork.com.

The Modern Library has played a significant role in American cultural life for the better part of a century. The series was founded in 1917 by the publishers Boni and Liveright and eight years later acquired by Bennett Cerf and Donald Klopfer. It provided the foun-dation for their next publishing venture, Random House. The Modern Library has been a staple of the American book trade, providing readers with affordable hard-bound editions of important works of liter-ature and thought. For the Modern Library's seventy-fifth anniversary, Random House redesigned the series, restoring as its emblem the running torchbearer created by Lucian Bernhard in 1925 and refurbishing jackets, bindings, and type, as well as inau-gurating a new program of selecting titles. The Modern Library continues to provide the world's best books, at the best prices.