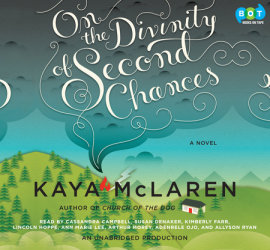 On The Divinity of Second Chances
Imprint: Books on Tape
Genre: Fiction - Literary

Release Date: May 05, 2009
10 Hours and 43 Minutes
List Price: $57
ISBN: 9781415957943
How did it come to this?

It's a question Jade keeps asking herself as she looks at her completely mixed-up family. Besieged by menopause, Jade's mother spends her time painting still lives of wrinkled raisins and sleeps outside on a lawn chair at night. Dad has simply checked out since retiring, lost in a world of cabinet rearranging and hardware alphabetization, while Forrest, Jade's brother, carries a terrible guilt that threatens to crush him. And then there's Olive, Jade's straitlaced sister, who has a secret that will push her parents even closer to the edge.

But there's something they're all about to discover. With the help of a group of tap-dancing old ladies, a sensual tango teacher, bagpipes, and a lot of luck, Jade's family is about to learn that everyone gets a second chance. And sometimes, second chances are even better than the first.