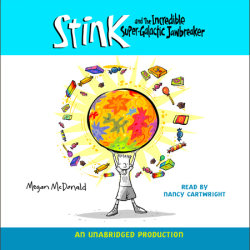 BOT Exclusive
Stink and the Incredible Super-Galactic Jawbreaker
Imprint: Listening Library
Grades: Grades K-4
Ages: 5-9 years
Release Date: October 17, 2006
0 Hours and 41 Minutes
List Price: $20
ISBN: 9780739335895
WELCOME TO PLANET JAWBREAKER!

Stink Moody can't believe it – he gets a ten-pound box of 21,280 jawbreakers (for FREE!), just for writing a letter to the candy company! Soon, he's writing more letters. . .and the packages of free stuff just keep coming.

Among all the packages, it's easy to miss a small envelope with scribbly writing. But one thing Stink doesn't miss is that his best friend, Webster, is looking as mad as a hornet!