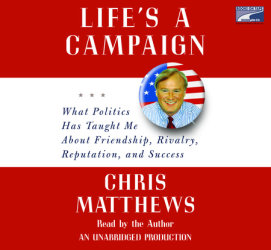 Life's a Campaign
What Politics Has Taught Me About Friendship, Rivalry, Reputation, and Success
Imprint: Books on Tape
Genre: Political Science - Commentary & Opinion

Release Date: October 02, 2007
4 Hours and 22 Minutes
List Price: $47.50
ISBN: 9781415942536
Famous for demanding the truth from his Hardball guests, Chris Matthews reveals how people running this country got to the top and exposes the tactics, tricks, and truths that help people get ahead–and can help you, too–whatever your field of ambition. Here are the methods, showcased in fascinating anecdotes and case histories, that presidents, senators, and other powerful people use to persuade others and win–and the life lessons they provide for the rest of us.

You'll learn about Bill Clinton's laser-focused ability to listen to those he wants to seduce–and how he's been teaching that craft to his wife, Hillary; how Ronald Reagan employed his basic optimism to win history to his side; the simple steps in human diplomacy that the first President Bush exploited to assemble a worldwide posse to attack Saddam Hussein and gain global approval in a way his son has failed to do; how Nancy Pelosi became the first woman Speaker of the House by practicing the most fundamental of human qualities: hardnosed loyalty. You'll also find out, for the first time, about Matthews's own wild ride through the turbulent, converging rapids of politics and journalism.

The big payoff in LIFE'S A CAMPAIGN is what you'll learn about human nature, and how mastering–and employing–these truths separates the leaders from the followers.