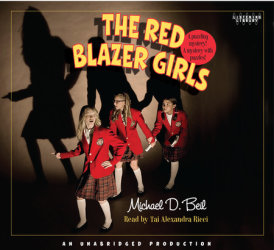 The Red Blazer Girls: The Ring of Rocamadour
Imprint: Listening Library
Grades: Grades 3-7
Ages: 8-12 years
Release Date: April 14, 2009
6 Hours and 55 Minutes
List Price: $42.50
ISBN: 9780739379615
The perfect series for kids who loved THE LEMONADE WAR series and are ready for more mysteries!

Edgar Award Nominee for Best Mystery!

"With wit, cunning, snappy dialogue and superior math skills, The Red Blazer Girls represent the best of girl-detectives while still feeling relatable and real. Nancy Drew would be right at home with this group." -- Huffington Post's 15 Greatest Kid Detectives List

It all began with The Scream. And ended with . . . well, if we told you that, it wouldn't be a mystery! But in between The Scream and The Very Surprising Ending, three friends find themselves on a scavenger hunt set up for a girl they never met, in search of a legendary ring reputed to grant wishes. Are these sleuths in school uniforms modern-day equivalents of Nancy, Harriet, or Scooby? Not really, they're just three nice girls who decide to help out a weird lady, and end up hiding under tables, tackling word puzzles and geometry equations, and searching rather moldy storage rooms for "the stuff that dreams are made of" (that's from an old detective movie). Oh, and there's A Boy, who complicates things. As boys often do.

Intrigued? The Red Blazer Girls offers a fun, twisty adventure for those who love mystery, math (c'mon, admit it!), and a modest measure of mayhem.

Michael Beil, a New York City high school English teacher and life-long mystery fan, delivers a middle-grade caper that's perfect for middle-grade readers who have finished THE LEMONADE WAR series and are ready for more advanced mysteries!