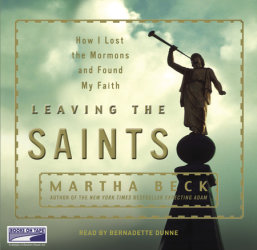 BOT Exclusive
Leaving the Saints
How I Lost the Mormons and Found My Faith
Imprint: Books on Tape
Genre: Biography & Autobiography - Personal Memoirs

Release Date: December 11, 2007
12 Hours and 46 Minutes
List Price: $85.50
ISBN: 9781415952184
Leaving the Saints is an unforgettable memoir about one woman's spiritual quest and journey toward faith. As "Mormon royalty" within the Church of Jesus Christ of Latter-day Saints, Martha Beck was raised in a home frequented by the Church's high elders—known as the apostles—and her existence was framed by their strict code of conduct. Wearing her sacred garments, she married in a secret temple ceremony—but only after two Mormon leaders ascertained that her "past contained no flirtation with serious sins, such as committing murder or drinking coffee." She went to church faithfully with the other brothers and sisters of her ward. When her son was born with Down syndrome, she and her husband left their graduate programs at Harvard to return to Provo, Utah, where they knew the supportive Mormon community would embrace them.

However, soon after Martha began teaching at Brigham Young University, she began to see firsthand the Church's ruthlessness as it silenced dissidents and masked truths that contradicted its published beliefs. Most troubling of all, she was forced to face her history of sexual abuse by one of the Church's most prominent authorities. This book chronicles her difficult decision to sever her relationship with the faith that had cradled her for so long and to confront and forgive the person who betrayed her so deeply.

This beautifully written, inspiring memoir explores the powerful yearning toward faith. It offers a rare glimpse inside one of the world's most secretive religions while telling a profoundly moving story of personal courage, survival, and the transformative power of spirituality.