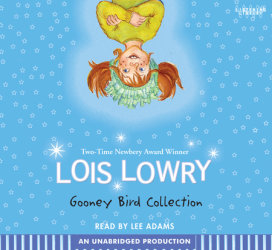 The Gooney Bird Collection
Gooney Bird Greene; Gooney Bird and the Room Mother; Gooney the Fabulous; Gooney Bird Is So Absurd
Imprint: Listening Library
Grades: Grades 1-4
Ages: 6-9 years
Release Date: March 24, 2009
7 Hours and 1 Minutes
List Price: $34
ISBN: 9780739372784
This four-story collection includes:

Gooney Bird Greene
There's never been anyone like Gooney Bird Greene at Watertower Elementary School. She is the star of story time and keeps her class on the edge of their seats with her "absolutely true" stories. But do her classmates have stories good enough to share?

Gooney Bird and the Room Mother
Gooney Bird wants to have the lead role of Squanto in her class Thanksgiving pageant. But that role will go to whoever finds someone to be the room mother. Gooney Bird finds a room mother alright, but promises not to tell who it is until the day of the play. But will the mystery room mother really show up?

Gooney the Fabulous
Gooney Bird has a fabulous idea after her teacher reads fables to the class. Her fabulous idea is that each student create their own fable and tell it to the class! Everyone but Nicholas is excited about their stories and costumes. Can Gooney Bird find out why Nicholas is unhappy and get him to join in the fun?

Gooney Bird Is So Absurd
On the day that Gooney Bird wears her special brain-warming hat to school, Mrs. Pidgeon is teaching her class about poetry. But just when things are going well, the kids get some terrible news. And Gooney Bird will need all the inspiration her brain can muster to organize the most important poem the class has ever written.