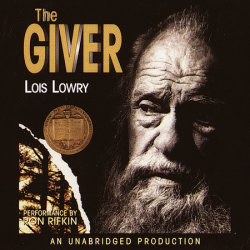 The Giver
Imprint: Listening Library
Grades: Grade 7 & Up
Ages: 12 and up
Release Date: June 27, 2006
4 Hours and 57 Minutes
List Price: $29.95
ISBN: 9780807262030
Categories:
Young Adult Fiction - Dystopian, Young Adult Fiction - Science Fiction - General, Young Adult Fiction - Politics & Government
Tags:
dystopia, science fiction, young adult, fantasy, ya, dystopian, utopia, memories, future, coming of age, children's, classic, classics, futuristic, children's literature, family, society, memory, children, euthanasia, juvenile, community, literature, teen, young adult fiction, school, juvenile fiction, childhood, love, children's fiction
Read by Ron Rifkin
4 hours, 48 minutes
4 CD's

December is the time of the annual Ceremony at which each twelve-year-old receives a life assignment determined by the Elders. Jonas watches his friend Fiona named Caretaker of the Old and his cheerful pal Asher labeled the Assistant Director of Recreation. But Jonas has been chosen for something special. When his selection leads him to an unnamed man-the man called only the Giver-he begins to sense the dark secrets that underlie the fragile perfection of his world.