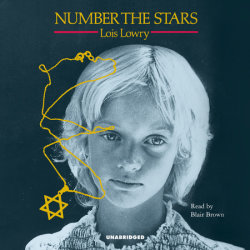 Number the Stars
Imprint: Listening Library
Grades: Grade 5 & Up
Ages: 10 and up
Release Date: June 27, 2006
2 Hours and 46 Minutes
List Price: $25
ISBN: 9781400085552
Categories:
Juvenile Fiction - Historical - Holocaust, Juvenile Fiction - Social Themes - Values & Virtues, Juvenile Fiction - Girls & Women
Tags:
historical fiction, holocaust, wwii, denmark, friendship, jews, jewish, young adult, history, war, family, children's, nazis, ya, historical, courage, nazi, bravery, children, children's literature, juvenile, judaism, juvenile fiction, children's fiction, germany, kids, 1940s, copenhagen, classics, accelerated reader
Ten-year-old Annemarie Johansen and her best friend Ellen Rosen often think of life before the war. It's now 1943 and their life in Copenhagen is filled with school, food shortages, and the Nazi soldiers marching through town. When the Jews of Denmark are "relocated," Ellen moves in with the Johansens and pretends to be one of the family. Soon Annemarie is asked to go on a dangerous mission to save Ellen's life.