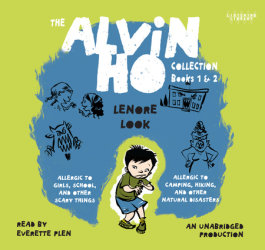 Alvin Ho Collection: Books 1 and 2
#1 Allergic to Girls, School, and Other Scary Things; #2 Allergic to Camping, Hiking, and Other Natural Disasters
Imprint: Listening Library
Grades: Grades 1-4
Ages: 6-9 years
Release Date: June 23, 2009
4 Hours and 2 Minutes
List Price: $32.30
ISBN: 9780739380475
ALSC Notable Children's Recordings

Allergic to Girls, School and Other Scary Things
Alvin Ho is an Asian American second grader who is afraid of everything–elevators, tunnels, girls, and, most of all, school. He's so afraid of school that, while he's there, he never, ever, says a word. But at home he's a very loud superhero named Firecracker Man, a brother to Calvin and Anibelly, and a gentleman-in-training, so he can be just like his dad.

Allergic to Camping, Hiking, and Other Natural Disasters
Alvin Ho is back and his worst fear has come true: he has to go camping. What will he do exposed in the wilderness with bears and darkness and . . . pit toilets? Luckily, he's got his night-vision goggles and water purifying tablets and super-duper heavy-duty flashlight to keep him safe. And he's got his dad, too.