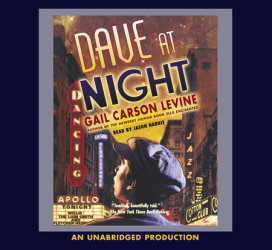 Dave at Night
Imprint: Listening Library
Grades: Grades 3-7
Ages: 8-12 years
Release Date: September 18, 2007
5 Hours and 31 Minutes
List Price: $42
ISBN: 9780739361177
Read by Jason Harris
approx. 6 hours
4 cassettes

It was the last place anyone should have called Home, the last place for kids to live —

The year is 1926. Dave's beloved father is dead and his stepmother doesn't want him. Only the HHB will take him in—Hebrew Home for Boys — Hell Hold for Brats. But Dave is tough and a troublemaker. He can take care of himself. If he doesn't like the Home, he'll run away and find a better place. Only it's not that simple...