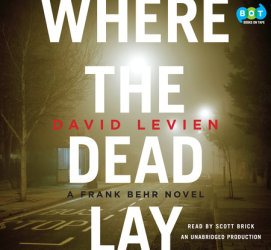 BOT Exclusive
Where the Dead Lay
Imprint: Books on Tape
Genre: Fiction - Mystery & Detective - Hard-Boiled

Release Date: June 16, 2009
9 Hours and 50 Minutes
List Price: $95
ISBN: 9781415962374
After the sinister disappearance of two highly-paid detectives, former Indianapolis cop, Frank Behr—the unforgettable P.I. introduced in David Levien's nationally acclaimed novel, City of the Sun—is pulled into his darkest, most relentless case.

When Frank Behr's friend and mentor is murdered during a suspicious break-in, Behr thirsts for answers and revenge. But before he can pick up the killer's scent, an exclusive private investigation firm approaches him with a case: two of its operatives have gone missing. Prodded to take the case by his old boss—the Indianapolis police captain who holds the strings to returning him to the force—Behr accepts.

The search for the missing detectives takes Behr into the dark recesses of Indianapolis' underbelly, a place rife with shocking brutality and vice. And when Behr uncovers a thread connecting the detectives to his friend's brutal murder, he is forced to confront an ominous, deadly new breed of organized crime.

Introduced in City of the Sun, Frank Behr instantly garnered critical attention and a high level of anticipation among thriller aficionados and fans of authors like Michael Connelly and Robert Crais.