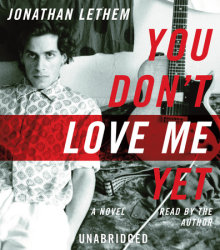 You Don't Love Me Yet
Imprint: Books on Tape
Genre: Fiction - Literary

Release Date: March 20, 2007
6 Hours and 15 Minutes
List Price: $76
ISBN: 9781415936894
From the incomparable Jonathan Lethem, a raucous romantic farce that explores the paradoxes of love and art

Lucinda Hoekke spends eight hours a day at the Complaint Line, listening to anonymous callers air their random grievances. One frequent caller, who insists on speaking only to Lucinda, captivates her with his off-color ruminations and opaque self-reflections. In blatant defiance of the rules, Lucinda and the Complainer arrange a face-to-face meeting–and fall desperately in love.
Consumed by passion, Lucinda manages only to tear herself away from the Complainer to practice with the alternative band in which she plays bass. Hoping to recharge the band's creative energy, Lucinda "suggests" some of the Complainer's philosophical musings to the band's lyricist, Bedwin. When Bedwin transforms them into brilliant songs, the band gets its big break, including an invitation to appear on L.A.'s premier alternative radio show. The only problem is the Complainer. He insists on joining the band, with disastrous consequences for all.
Brimming with satire and sex, YOU DON'T LOVE ME YET is a funny and affectionate send-up of the alternative band scene, the city of Los Angeles, and the entire genre of romantic comedy, but remains unmistakably the work of the inimitable Jonathan Lethem.