Collection Development
Back-to-School Stories for Your Classroom and Library
After a summer of fun, it's time to head back to school! For many kids, the first few days are exciting…but once they get in a routine, that can quickly turn to boredom or dread.
Keep young listeners interested in learning and school, or bolster them with confidence for the classroom by sharing these fun, relatable, and timely audiobooks.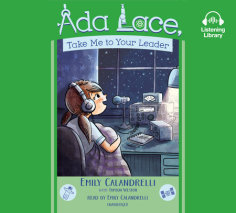 "Parents need to know that Emily Calandrelli's Ada Lace series is a breath of fresh air for readers who love science and adventure." —Common Sense Media

Third-grader and inventor extraordinaire Ada Lace likes nothing more than to tinker with mechanics like her robot, George. Her latest project is to fix up a ham radio. During a sleepover, Ada's best friend Nina hears something strange coming from the radio in the middle of the night. Could Ada and Nina have stumbled upon something…extraterrestrial?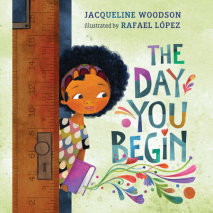 "A beautiful and inclusive story that encourages children to find the beauty in their own lives and share it with the world."
—School Library Journal, starred review

There are many reasons to feel different, especially at school. Maybe it's how you look or talk, or where you're from; maybe it's what you eat, or something just as random. It's not easy to take those first steps into a place where nobody really knows you yet, but somehow you do it and meet great new people.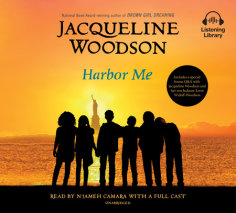 "In this unique audio, six narrators represent characters in shared dialogues…An interview between Woodson and her son, Jackson-Leroi, which serves as an afterword, is honest and powerful." —AudioFile, Earphones Award Winner
It all starts when six kids have to meet for a weekly chat–by themselves, with no adults to listen in. There, in the room they soon dub the ARTT Room (short for "A Room to Talk"), they discover it's safe to talk about what's bothering them and become braver together.
"This first volume in a spinoff series about Humphrey's pal, Og the frog, offers heart and humor." —School Library Journal, starred review

When Og the Frog first comes to Room 26, he doesn't know what to think. He misses his friends from the pond, and there are all kinds of strange noises. But the kids sure are friendly! When talk turns to releasing him back into the wild, he doesn't know what to feel. How can he say goodbye to all the new friends he has made?
"Offers fresh perspectives on the strength of middle-school friendships and family ties…Lively, funny, and thought-provoking." —Booklist

Ellie's grandpa Melvin is a world-renowned scientist . . . in the body of a fourteen-year-old boy. When he and Ellie team up for the county science fair, no one realizes just how groundbreaking their experiment will be. The formula for eternal youth may be within their reach!  But is the key to eternal life really the key to happiness?
For even more wonferful audiobooks that would be perfect for your classroom and library, browse this collection.