Download This List For Excel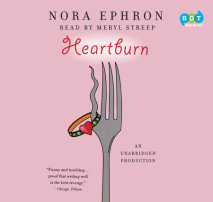 Is it possible to write a sidesplitting novel about the breakup of the perfect marriage? If the writer is Nora Ephron, the answer is a resounding yes. For in this inspired confection of adultery, revenge, group therapy, and pot roast, the creator of ...
List Price: $57
ISBN: 9780385367318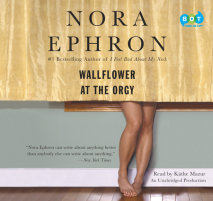 From her Academy Award—nominated screenplays to her bestselling fiction and essays, Nora Ephron is one of America's most gifted, prolific, and versatile writers. In this classic collection of magazine articles, Ephron does what she does b...
List Price: $57
ISBN: 9780385367349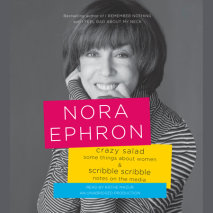 Two classic collections of Nora Ephron's uproarious essays—tackling everything from feminism to the media, from politics to beauty products, with her inimitable charm and distinctive wit—now available in one audiobook.  Th...
List Price: $95
ISBN: 9780385367370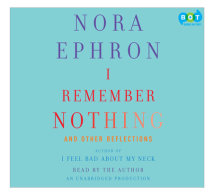 The acclaimed author of I Feel Bad About My Neck takes a cool, hard, hilarious look at the past, the present, and the future, bemoaning the vicissitudes of modern life, and recalling with her signature clarity and wisdom everything she hasn't (...
List Price: $28.50
ISBN: 9780307879240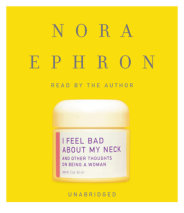 With her disarming, intimate, completely accessible voice, and dry sense of humor, Nora Ephron shares with us her ups and downs in I FEEL BAD ABOUT MY NECK, a candid, hilarious look at women who are getting older and dealing with the tribulations of ...
List Price: $34.20
ISBN: 9780739346686