Download This List For Excel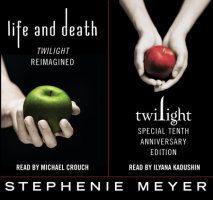 Celebrate the tenth anniversary of Twilight! This special double-feature audiobook by Stephenie Meyer includes the classic novel, Twilight, read by Ilyana Kadushin, and a bold and surprising reimagining, Life and Death, read by Mi...
List Price: $75
ISBN: 9780451483928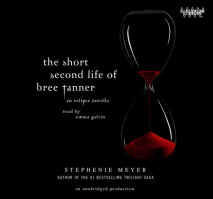 Fans of The Twilight Saga will be enthralled by this riveting story of Bree Tanner, a character first introduced in ECLIPSE, and the darker side of the newborn vampire world she inhabits. In another irresistible combination of danger, mystery, and ro...
List Price: $33
ISBN: 9780307746849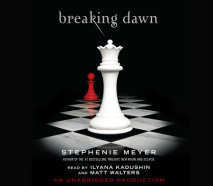 To be irrevocably in love with a vampire is both fantasy and nightmare woven into a dangerously heightened reality for Bella Swan. Pulled in one direction by her intense passion for Edward Cullen, and in another by her profound connection to werewolf...
List Price: $76.50
ISBN: 9780739367704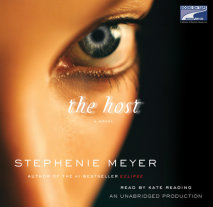 Melanie Stryder refuses to fade away. Our world has been invaded by an unseen enemy. Humans become hosts for these invaders, their minds taken over while their bodies remain intact and continue their lives apparently unchanged. Most of humanity has s...
List Price: $95
ISBN: 9781415955871
Edward's soft voice came from behind me. I turned to see him spring lightly up the porch steps, his hair windblown from running. He pulled me into his arms at once, just like he had in the parking lot, and kissed me again. This kiss frightened ...
List Price: $102
ISBN: 9780739361009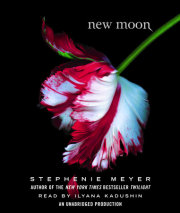 I FELT LIKE I WAS TRAPPED IN ONE OF THOSE TERRIFYING NIGHTMARES…For Bella Swan, there is one thing more important than life itself: Edward Cullen. But being in love with a vampire is even more dangerous than Bella ever could have imagined. Edwa...
List Price: $68
ISBN: 9780739348307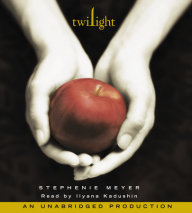 About three things I was absolutely positive:First, Edward was a vampire.Second, there was a part of him–and I didn't know how dominant that part might be–that thirsted for my blood.And third, I was unconditionally and irrevocably i...
List Price: $63.75
ISBN: 9780739345306