Download This List For Excel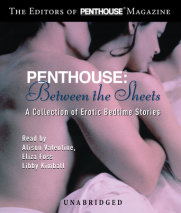 Is it any wonder that the world's number-one writers of erotic fiction have found a home in the world's number-one magazine of erotic entertainment? Now, from the pages of Penthouse, come thirty-six torrid tales that give new meaning to t...
List Price: $76
ISBN: 9781415954843
Twenty-Eight Flavors, No Vanilla To find the limits of lovemaking, how far would you go--to Paris or the Caribbean, to miles above the earth, to your very own bedroom? Who would you invite--a threesome, a foursome, a whole houseful of eager erotic re...
List Price: $47.50
ISBN: 9781415954850
WHAT DO WOMEN WANT? To the age-old question, Penthouse has the answer: Great sex--lots of it--in every variation! Here, in this audiobook, you'll meet women of all ages and from all walks of life, with one thing in common. They're all open to erotic ...
List Price: $76
ISBN: 9781415954867