Download This List For Excel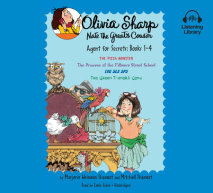 Olivia Sharp, cousin to super sleuth Nate the Great, is a detective too! Rather than solve mysteries like Nate, Olivia helps friends with their problems by detecting what's wrong beneath the surface. You'll be won over by Olivia's spunk, eccentriciti...
List Price: $28
ISBN: 9780525589723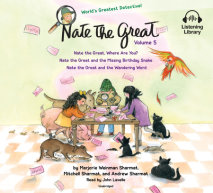 Join the world's greatest detective, Nate the Great, as he solves three mysteries! Perfect for young listeners, this long-running chapter book series encourages children to problem-solve with Nate, using logical thinking to solve cases.NATE THE GREAT...
List Price: $22
ISBN: 9780525590545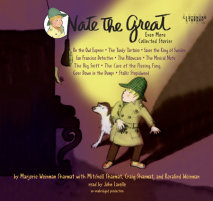 THE OWL EXPRESSNate, the great detective, and his dog Sludge, hit the rails on their latest case. Their mission: To guard an owl named Hoot. Hoot belongs to Nate's cousin, Olivia Sharp, and she thinks someone on the train might be out to get he...
List Price: $30
ISBN: 9780449014783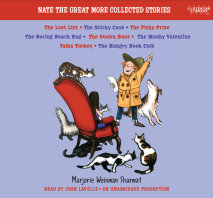 New on CD is the third collection of classic stories from Nate the Great and his trusty companion Sludge.Lost ListWhen Nate's friend Claude's grocery list is lost, Nate sets out to find it before lunch. Sticky CaseA stegosaurus stamp belo...
List Price: $28
ISBN: 9780307916693