Download This List For Excel
First person stories of patients who recovered from Alzheimer's Disease--and how they did it.It has been said that everyone knows a cancer survivor, but no one knows an Alzheimer's survivor. Now you can hear directly from the first survivors themselv...
List Price: $66.50
ISBN: 9780593409619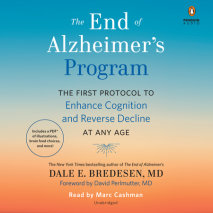 The New York Times Best Selling author of The End of Alzheimer's lays out a specific plan to help everyone prevent and reverse cognitive decline or simply maximize brainpower.In The End of Alzheimer's Dale Bredesen laid ...
List Price: $40
ISBN: 9780593210420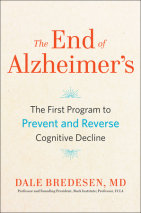 A groundbreaking plan to prevent and reverse Alzheimer's Disease that fundamentally changes how we understand cognitive decline.   Everyone knows someone who has survived cancer, but until now no one knows anyone who has survived Alzheimer...
List Price: $40
ISBN: 9781524779191