Featured Titles, Guest Post
Author Padma Venkatraman on the Interplay of Sound and Silence in The Bridge Home
Padma Venkatraman's middle-grade debut, The Bridge Home, is a powerful story about four homeless children in India. Touching on sisterhood, friendship, homelessness, poverty, and, most importantly, hope, this story should be in every middle-grade collection.
Author Padma Venkatraman also narrated this story. While it wasn't easy, she loved the recording process…and she learned how writing and reading aloud are very similar. See what else she had to say!
---
Growing up in India in a Hindu family, I celebrated many festivals throughout the year. The only festival that I dreaded as a child (although I also found it beautiful and profound) was Saraswathi Pooja, the day dedicated to the goddess of learning. Why? Because on that day, I wasn't allowed to read or write. Books, which are considered sacred (as well as writing implements and all other instruments, tools, and vehicles) are not used that day.
The day after the "ayuda" pooja, when I was no longer forbidden to read, I read like a fiend. As a child I couldn't imagine a time in my life when other responsibilities would take over to the point that I wouldn't be able to read as much as I wished.
Yet, when I was hard at work on my doctoral dissertation in oceanography at the College of William and Mary, I had very little spare time to read books of fiction or poetry. I missed stories and wished I could make time for them—but didn't know how.
Until Kimani, my labmate and one of my dearest friends, introduced me to audiobooks. I was hooked—immediately. We listened to book after book together as we worked side by side in the laboratory. We even got the technician in our laboratory, Rob, to fall in love with books on tape. And when I moved to Johns Hopkins University for my post-doc, I continued to listen to books on tape, when I cooked dinner every night. The magic of storytelling revived me—without it I felt like a plant without water. Sometimes, as I worked on the decks of ships, I dreamed of narrating an audiobook (although mostly I dreamed of writing fiction and poetry).
Luckily for me, over a decade ago, my debut novel, Climbing the Stairs, was published. I often read from the book during events at schools and libraries and universities, and by the time my fourth novel, The Bridge Home, was published, I felt I wanted to try and read it aloud.
"May I audition to read my novel?" I asked, and after I sent the editor (Linda Korn) my audition, I waited anxiously for her reply. She described my audition as "lovely" but also sent me links to two actors she'd had in mind. I listened to them, and both of them were brilliant.
So there I was, on the fence. I wanted more than anything to read The Bridge Home because I felt like I could hear the voice of every character so very clearly; that said, I'd never read an entire novel aloud before (although I had done the audio for two picture books). What if I wasn't able to keep up my involvement throughout the grueling recording sessions? What if I botched the reading of my own novel, and did it a disservice?
---
LISTEN TO A CLIP
---
"Let's talk," Linda said in an email. For a while we played phone tag, but when we finally got to chat, I was amazed to hear that she'd not only listened to my audition, she'd also listened to previous television and radio interviews I'd done (to which there were links on my website), and even listened carefully to my phone messages!
We agreed that we both wanted the best for the book. We talked through my fears, and then Linda said she was confident I'd do a great job and told me she felt I should go ahead. I was elated, as was my daughter. "Yay!" she said. "You'll be the best reader."
That night I went to bed ecstatic; the next morning, I woke up terrified. The terror only grew as the week wore on, and it was only the thought of disappointing my daughter that kept me from calling Linda to say I was calling the whole thing off.
My hand was trembling as I put on the headphones in the studio, but luckily, my voice didn't tremble. With the guidance provided by the director and the head of the studio—both of whom had a tremendous body of experience and immense patience—I was soon entirely engrossed in my story again. Or rather, in the narrator's story.
In some ways it was like my writing process. Every novel has begun with an auditory hallucination that feels very real to me—I hear voices in my head, and I listen and write down what they say. It's only after I can hear them clearly that I begin to see them—so it feels like listening to a book on tape, and then watching a movie—and then, as I write I get into my characters' heads and hearts. They haunt me and then possess me, so I begin to dream with and within them. And as I edit, I read my work aloud.
Reading aloud for a recording was, nonetheless, a lot of hard work. I couldn't allow my concentration to waver, and I had to find a fine balance between overacting and reading in a deadpan manner. To paraphrase my director, Paul Alan Ruben, I had to ensure that I didn't try to "help the words" as I read; but I also did have to "feel the words." Paul suggests I give each word its due without trying to dramatize—that I see each sentence as I read it, that I feel the words as I read.
As a writer I have to find a balance similar to the balance I discovered as I read my work aloud—I've discovered what I don't say is as important as what I do say. To overemphasize words would be like filling the page with italics and uppercase and bombastic language; to read without emotion would be like writing sentences inattentively. I don't want to overwrite or underwrite. I never want to tell the reader something, I want to show it. To help the reader feel, with compassion and empathy, the feelings of my characters, I have to trust not only my words but the spaces on the page that I don't fill with words. Sometimes I think of the page as a room: if we clutter it with furniture, it becomes hard to move around. To welcome the reader in, we need to have just enough furniture so the reader wishes to enter and visit. I also have to ensure that every word I set down is intentional.
The play of carefully chosen words and nonwords is like the play of sound and silence as I read aloud. I read and read, and when I'm done, the head of the studio says, gruffly, that he was moved to tears, that he felt laughter and joy and sorrow along with my characters.
As I leave the studio, I feel exhausted and exhilarated. It has been an emotionally intense experience—and I'm drained. And yet, I am also energized.
I have no idea if I'll ever want to do it again, for another of my novels. But I do have an excellent idea of what I can give my friend Kimani's family as a gift, when I see them again!
---
Hear more from Padma Venkatraman about her recording experience on her episode of our podcast, This Is the Author.
Learn more about The Bridge Home written and read by Padma Venkatraman:
Runaway sisters Viji and Rukku arrive in Chennai with nothing. Fortunately, they find shelter and friendship on an abandoned bridge with two other homeless boys, Muthi and Arul. The four children form their own sort of happy family, but, when illness strikes, Viji must decide whether or not to risk seeking help from strangers.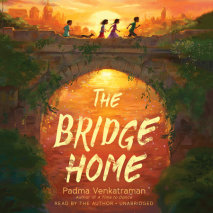 "Venkatraman's middle-grade debut tackles sisterhood, chosen families, and loss. . . . Viji's narration is vivid and sensory. . . . The novel also touches on social justice issues such as caste, child labor, and poverty elegantly, without sacrificing narrative. A blisteringly beautiful book." —Kirkus Reviews, starred review
"Exquisitely narrated novel set in Chennai, India. . . . Venkatraman vividly sketches the group's precarious economic situation. . . . This is a poignant portrait of love, sacrifice, and chosen family in the midst of poverty." —Publishers Weekly, starred review
"The affecting narrative transports readers to a faraway setting that becomes vivid and real. While the young characters face unusually difficult challenges, together they find the courage they need to move forward. The author of A Time to Dance, Venkatraman offers an absorbing novel of love, loss, and resilience." —Booklist, starred review