Collection Development, Featured Titles, Guest Post
Author Julie Berry Shares the Magic and Music of LOVELY WAR
Are you looking for an incredible, sweeping historical fiction title to add to your collection that both teens and adults will love? Look no further. Lovely War, written by Julie Berry and read by a tremendously talented cast of narrators, fits the bill.
It has been garnering rave reviews—which is no surprise considering Julie Berry is the author of 2017 Printz Honor and Los Angeles Times Book Prize shortlisted novel The Passion of Dolssa, the Carnegie and Edgar shortlisted All the Truth That's in Me, among others. Not only is the written story lush and engrossing, but the audio production is also a unique and beautiful experience. There are eight narrators, and the production contains original music to listen to.
Author Julie Berry took us behind-the-scenes of the creation of this special audiobook.
---
I first discovered just how much audiobooks are greater than the sum of their parts when my own books found their way to audio. Clearly, I realized, audiobooks are not just a story + a pretty voice. I've always loved them—they kept my brain from turning into baby-food mush when I was a young mom, and have done so ever since—but when I listened to Jayne Entwistle's Odyssey Honor performance in The Scandalous Sisterhood of Prickwillow Place, I realized she'd found more in each of the seven young ladies than I'd known was there. She made my books better. Her versatility was again on display as Botille in The Passion of Dolssa, along with a fervent, vulnerable performance by Fiona Hardingham of Dolssa, and a darkly delicious portrayal of Friar Lucien and the other male characters by Allan Corduner. They're the audio equivalent of a prep team straight out of The Hunger Games. They make my stories sizzle.
Naturally, I was thrilled when each of them joined the Lovely War audio team. Jayne plays Aphrodite, the goddess of love; Fiona plays Hazel Windicott, one of the chief protagonists; and Allan is the overall narrator. Other actors whose talents I've long admired joined that lovely lineup: Nathaniel Parker, whose Artemis Fowl performances (among others) are a pure delight, plays Ares, god of war; Steve West, whom I first heard in the audiobooks of Sabaa Tahir's An Ember in the Ashes series, plays James Alderidge, a British soldier; Dion Graham, narrator of many Dave Eggers titles, voices Apollo; and John Lee gives dignified, formidable, er, life to Hades, the god of death. It's a dream team. My hope in writing Lovely War was to offer the world a romantic, poignant, heartbreaking story of love and war. It's this roster of talent that picked up where I left off and finished the job.
One part remained in summing up the whole of Lovely War on audio—the music. Ragtime, jazz, and classical music are integral to both the plot and the setting of the novel. This performance, I believed, needed a soundtrack. Director Robert Kessler and producer Orli Moscowitz (a dream team on the other side of the microphone) agreed. We wanted to evoke the smooth nightclub sound of the 1940s as well as the bouncy ragtime of the 1910s music-hall era. We also needed African-American spirituals, classical snatches of Chopin and Liszt, mournful requiems for the dead, and the dissonant sounds of trauma. (Those aren't spoilers in a book about war, right?) I knew just whom to call.
Aubrey Edwards, one of the four main characters, is a ragtime pianist and composer and a member of the Harlem Hellfighters regiment in World War I. He has a knack for taking any melody, however serious, and flipping it into a rag on the spot. I didn't invent this superpower. Aubrey's musical skills are based on those of a good friend of mine, pianist and composer Benjamin Salisbury. Our families are close, and he's a frequent guest in my home. We call him a Living Jukebox, but his talents far surpass playing popular tunes on demand. He writes and composes across musical genres, and he can "rag" anything from "America the Beautiful" to "The Hallelujah Chorus" to "Single Ladies" on a moment's notice. (I'll cook dinner anytime for someone who can do that.)


I'd written a fun scene where Aubrey rags classical pianist Hazel's performance of the Adagio cantabile movement of Beethoven's Piano Sonata no. 8 (the Pathétique). He declares himself to be "fixing the mistakes" in Beethoven's "pathetic" piece. I could perfectly imagine Ben doing just that. And he did, when I asked him to compose a Lovely War soundtrack. Ben calls the results the "Not So Pathetic Rag." Aubrey also rags the morning reveille tune, the trumpet wake-up call then in use in the army. Ben's "Reveille Blues" is one of my favorite musical interludes in the audiobook. Altogether Ben wrote, transcribed, and performed nearly thirty musical pieces for this audiobook. Only a handful are known repertoire; most are original compositions. It was marvelous to collaborate with him, discussing what musical colors and moods would best fit the mood of key story moments, and which would provide smooth segues to whatever came next.
I'm more or less giddy about the finished results of my dream team's work. I know I'll be listening to it over and over again, and I wrote it, for heaven's sake. I know all the spoilers. A glittering ensemble of talent has added glamour and panache to a book I wrote in sweatpants. I mean, to my tale of four star-crossed, war-torn lovers, and the meddling gods who shape their lives. The glorious whole is worth far more than the sum of its parts. I knew it would be, and I was not disappointed.
---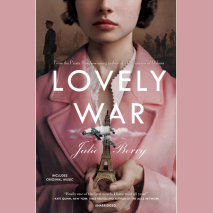 "Berry's evocative novel . . . gains steam as the stories flesh out. Along the way, it suggests that while war and its devastation cycles through history, the forces of art and love remain steady, eternal, and life-sustaining." —
Publishers Weekly
, starred review
"Scheherazade has nothing on Berry . . . An unforgettable romance so Olympian in scope, human at its core, and lyrical in its prose that it must be divinely inspired." —Kirkus Reviews, starred review
"Readers will be swept away by Berry's lyrical prose." —School Library Journal, starred review
"Proves again that Berry is one of our most ambitious writers. Happily for us, that ambition so often results in great success." —Booklist, starred review
"Poignant…will make readers, by turns, laugh, cry, and swoon." —The Horn Book, starred review