Guest Post
Author Debbie Macomber Shares Recipes With Audiobook Recommendations
By Debbie Macomber, featuring recipes from Debbie Macomber's Table (Click on each dish name to see the full recipe.)
I'm big on listening to books on audio. And when I say big, I mean BIG. My love for audiobooks came when I realized I could multitask, which is important to those of us with busy lives. And when you think about it, we are all busy! Accomplishing two things at once simply makes sense in our crazy, sometimes overscheduled world. If I'm stuck in traffic (and who isn't these days) there's nothing better than to be entertained by a story. Or even better, when cooking dinner for the family, get caught up in the delights of a story while chopping an onion, especially if it's Jojo Moyes' Me Before You: "Honey, really it's the onion that made me weep like I would never be able to breathe again."
Now, I have the privilege of sharing some of my favorite recipes and pairing them with recent books that I've enjoyed listening to while cooking…or driving or knitting or while luxuriating in my bath…or any time.
A perfect pairing for Lisa Wingate's runaway bestseller might be DEBBIE'S MOM'S BORSCHT.  My grandparents immigrated from Ukraine and brought with them the recipes that have been shared from one generation to the next.  This recipe is far more than food, and more than a soup–it's family history, heritage and love from grandparents I never had a chance to really know.  Lisa is a friend and a talented author.  You will enjoy both the story and the borscht.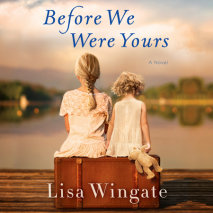 "Thought-provoking [and] complex tale about two families, two generations apart . . . based on a notorious true-life scandal." —Library Journal
We lost a stellar storyteller when Pat Conroy died.  Because I stand in awe of his talent, I wanted to know which books captured his attention.  I was inspired by his enthusiasm and love of the written word, and have since purchased several he mentioned, and yes, I got them on audio.
If I were ever to have the chance to sit down with Pat and serve him dinner, this is the recipe I would choose: GUINNESS POT PIE (pictured above). I know he'd enjoy it as much as I do.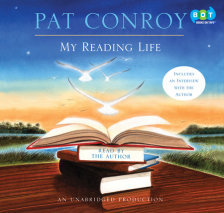 "Hearing his first words, listeners will realize why Pat Conroy is the best—possibly the only—narrator for his emotional memoir." —AudioFile (Earphones Award Winner)
Slap your hand across your heart when you listen to Mary Neal's breathtaking story of experiencing death while on a kayaking trip in Chili.  Death, heaven, and then life again.  The details had me sitting in my car in the driveway, unable to stop listening.
GRATITUDE BREAD (pictured above) would be a perfect recipe to prepare while listening to Mary's story.  How short life is, and how grateful I am for every moment of my own.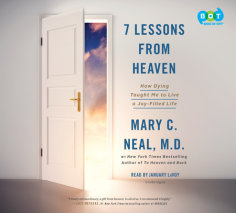 "Neal combines spiritual reflection with medical facts to create lessons that are profound and eminently practical. . . an inspiring work any believer can enjoy." —Publishers Weekly
When I first saw the title of John's latest book, I mistakenly thought it featured one of our Puget Sound islands. However, one single vowel change in the title, from an "i" to an "a," moved the setting from Washington state back to where John Grisham intended it to be!  Still, I found it fitting to pair this audio with a wonderful salmon dish, because who can resist any book by John Grisham, or
GARLIC SALMON PASTA IN A SPICY CREAM SAUCE
. Now
that's
a winning combination. 
"January LaVoy's expert narration engages listeners…She finds outstanding, distinctive voices for the various charismatic characters." —AudioFile (Earphones Award Winner)
---
Debbie Macomber is the author of many New York Times bestsellers, such as Any Dream Will Do and If Not for You. Her audiobooks are the perfect companion for your patrons when they craft, cook, garden, or just relax at home. Share more of these delicious recipes with your patrons by offering them her cookbook, Debbie Macomber's Table.
---