Promotions & Events
Audiobooks, Giveaways, and Events You Can't Miss @ ALA in Washington, D.C.
June is Audiobook Month and ALA Annual! We're heading down to D.C. to celebrate the many ways that audiobooks make it possible to combine our love of reading with our favorite summer activities. Stop by BOT in the Penguin Random House booth #1805 to pick up the perfect swag for audiobook lovers: Listen on the go with our Angels in America earbud cases, grab an exclusive Charlotte's Web tote & quote cards featuring the art from our upcoming audiobook production narrated by Meryl Streep(!!!) and a full cast, or pop by our booth for an "I ♥ Audiobooks" cell phone grip accessory.
Find these giveaways and much more in our revamped audio booth—look out for the BIG screen sharing audio inspiration for physical displays and digital listening promotions, hear new stats about aubiobooks, and talk to us about our upcoming FREE audio toolkit for libraries! Be sure to mark your calendars with the exciting ALA audio activities below! We'll see you in D.C.!
Psst—Tell us what you're listening to en route by tweeting @BOTLibrary.
FREE PANEL:
Listen Up: Tips for Growing Audiobook Circulation
Saturday, June 22, 11:30am – 12:30pm
Marriott Marquis | Treasury room
Audiobook listening is on the rise. 50% of Americans age 12 and older have listened to an audiobook. How can your library take advantage of this boom? Hear from librarians and representatives from Books on Tape about best practices. You'll walk away from this session with tools to help you promote audiobooks to your patrons.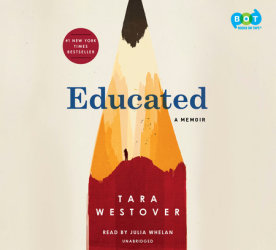 FREE AUDIOBOOK SIGNING:
Narrator Julia Whelan
Saturday, June 22, 3 – 4pm
PRH booth #1805
Meet this year's Audie Award Winner for Best Female Narrator and receive a FREE signed audiobook CD of the 2019 RUSA Listen List Winner, Educated.
While supplies last.

RUSA LITERARY TASTES: Celebrating the Best Reading of the Year
Sunday, June 23, 8 – 10 am
Location: Renaissance, Congressional Ballroom
***Ticketed Event***
Click here for ticket info.
What could be better than books and breakfast? Maybe signed books and breakfast? Join your fellow readers and book lovers and listen to some of the year's best authors from RUSA book and media award winners and Best of Lists Authors. Featured panelists include author Chelsey Johnson (Stray City), John Scalzi (Collapsing Empire), Therese Anne Fowler (A Well-Behaved Woman) and audiobook narrator, Julia Whelan (pictured left, Educated). Authors will discuss their works and the craft of writing as well as sign books immediately following the event. Registration is required.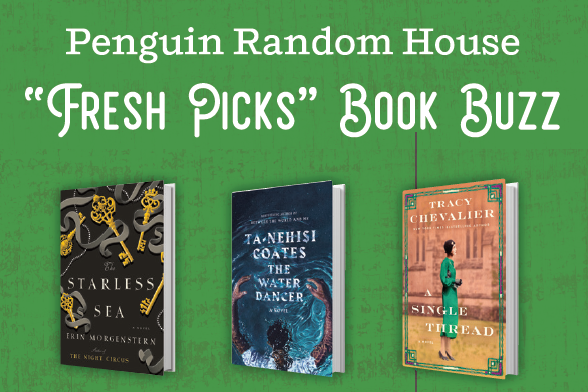 "FRESH PICKS" BOOK BUZZ
Sunday, June 23, 11:30am – 12:30pm
Location: Washington Convention Center, 202A
Join the Library Marketing and BOT Teams to receive ARCs, Tote Bags, Raffle Prizes, and get a sneak peek at the books and audios sure to drive your holds lists. Mimosas and snacks will be served.

Find more exciting ALA events and signings on Penguin Random House Library Marketing's website!