Awards & Recognition
April LibraryReads Celebrate Women's Voices
March may be Women's History Month, but April's rich reads—and phenomenal listens—continue the celebration of strong female voices and inspiring trailblazers. These audiobooks bring to life historical fiction at its finest (and read by a full cast!), a gripping ghost story read by two female narrators, an unflinchingly honest fiction listen that explores young love, and two must-hear memoirs read by the one-of-a-kind authors themselves, infusing even more intimacy and personality into their unforgettable books. Don't forget to make the audio editions of these superb LibraryReads picks available to your patrons.

#1 April Pick!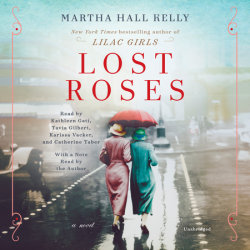 LOST ROSES
By Martha Hall Kelly
Read by Catherine Taber, Tavia Gilbert, Kathleen Gati & Karissa Vacker, with a Note read by the Author
LISTEN TO A CLIP:
LOST ROSES
LibraryReads review: "The Ferriday family (Lilac Girls) returns in this story of love, loss, and triumph. The voices of four compelling female characters tell of the devastating effects of the Russian Revolution and World War I. Highly recommended for book clubs."—Mamie Ney, Auburn Public Library, Auburn, ME
Why try the audio? Martha Hall Kelly's second audiobook also gets the full cast treatment. Booklist declared in a starred review for Lilac Girls, "The book is particularly well suited to audio, and the three protagonists are each stunningly performed." Expect no less from this stellar cast of four narrators, which includes Kathleen Gati once again, as well as a note recorded by the author. Stay tuned for a special episode of our This is the Author podcast to hear more about Martha Hall Kelly's thoughts about her fabulous audiobooks.
Praise for LOST ROSES: "Kelly's gift is bringing to life and to light the untold stories of women and families far away from the war front yet deeply affected by the decisions of leaders and the efforts of fighters. Fans of historical fiction like the works of Marie Benedict and Lisa See, and viewers of period dramas, will want to clear their calendars when LOST ROSES comes out."—Booklist, starred review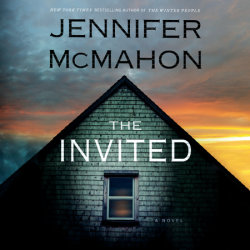 THE INVITED
By Jennifer McMahon
Read by Justine Eyre & Amanda Carlin
LISTEN TO A CLIP: THE INVITED
LibraryReads review: "Nate and Helen leave their teaching jobs to build their dream home in rural Vermont. Helen begins seeing ghosts, and Nate becomes obsessed with a white doe. An unputdownable thriller about a house with a tragic past. Perfect for fans of Erin Kelly and Attica Locke."—Terri Smith, Cornelia Library, Mt. Airy, GA
Why try the audio? Ghost stories are meant to be heard—and this two-narrator production of THE INVITED audiobook speaks right to the part of us that loves being told a scary story, whether or not you have a crackling campfire or flashlight handy. Though you may want to keep a light source at arm's reach for those spine-tingling surprise moments.
Praise for THE INVITED: "The resulting blend of ghost story and modern mystery is flawlessly compelling and evocative. A masterful twist on the haunted-house story."—Booklist, starred review
"The latest from McMahon is like a nesting doll—a thriller inside a murder mystery inside a ghost story—and will chill readers with every sideways glimpse of a passing shadow."—Library Journal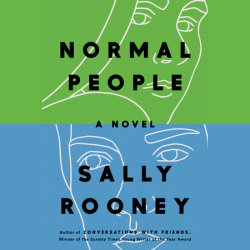 NORMAL PEOPLE
By Sally Rooney
Read by Aoife McMahon
LISTEN TO A CLIP: NORMAL PEOPLE
LibraryReads review:"Follows the complicated relationship between Connell, a popular boy, and Marianne, a lonely and private girl, through their high school years and college. A great book club pick. For fans of Three Junes by Julia Glass and Idaho by Emily Ruskovich."—Anbolyn Potter, Chandler Public Library, Chandler, AZ
Why try the audio? Aoife McMahon, who won acclaim for narrating Sally Rooney's debut, returns to give an authentic Irish voice and keen characterizations to Rooney's relatable tale. AudioFile said of her Conversations With Friends performance, "The unfolding story—shared intimately as though in private conversation with listeners—captivates."
Praise for NORMAL PEOPLE: "Showcasing Rooney's focus and ability in building character relationships that are as subtle and infinite as real-life ones, and her perceptive portrayal of class, NORMAL PEOPLE gets at the hard work of becoming a person and the near impossibility of knowing if a first love is a true one."—Booklist, starred review
"A major literary achievement."—Library Journal, starred review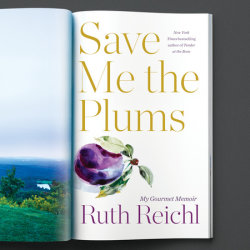 SAVE ME THE PLUMS
By Ruth Reichl
Read by the Author
LISTEN TO A CLIP: SAVE ME THE PLUMS
LibraryReads review: "Reichl's captivating story about leaving her job as a New York Times restaurant critic to become Editor in Chief of Gourmet magazine. Her writing is as luscious as the food she critiques. For fans of Kitchen Confidential by Anthony Bourdain and My Life in France by Julia Child."—Katelyn Boyer, Fergus Falls Public Library, Fergus Falls, MN
Why try the audio? Listen while you cook! Be inspired by Ruth's recognizable voice as she takes listeners through her own intimate story. A longtime fan of audiobooks herself, Ruth understands the joy of oral storytelling as much as she understands great writing—and fabulous food. The audio allows you to combine all three. As Booklist said in a review of Reichl's My Kitchen Year audiobook, "[Reichl] speaks conversationally with a stirringly unforced honesty and intimacy."
Praise for SAVE ME THE PLUMS: "Throughout, the author tells winning stories…An absolutely delightful reading experience."—Kirkus, starred review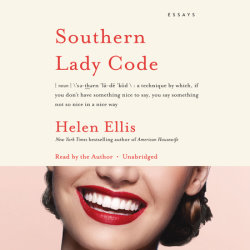 SOUTHERN LADY CODE
By Helen Ellis
Read by the Author
LISTEN TO A CLIP: SOUTHERN LADY CODE
LibraryReads review: "A funny, spot-on collection of essays on topics ranging from marriage and manners, three-ways, and how to be a good friend in the middle of a murder trial. For fans of You Play the Girl by Carina Chocano and Thick by Tressie McMillan Cottom."—Linda Quinn, Fairfield Public Library, Fairfield, CT
Why try the audio? Two words: Helen Ellis. This hilarious author is a hoot behind the mic. Even though she didn't narrate her acclaimed audiobook, American Housewife, she stopped by the studio for some library-love in the form of this special essay and we couldn't stop smiling. You will love listening to her tell you her hysterical, heartfelt, and so-crazy-they-must-be-true tales in her own one-of-a-kind voice.
Praise for SOUTHERN LADY CODE: "Ellis's wonderfully amusing writing is hard to put down."—Library Journal, starred review
"Ellis is a hoot and a half, which, as she might say, is Southern Lady Code for 'laughing 'til the tears flow' funny."—Booklist