Collection Development, Featured Titles
Adventure Awaits with Rick Riordan Presents on Audio
As big Rick Riordan fans, we're always looking for another audiobook that will be full of humor, adventure, and a little magic. (Have you listened to all of his books? Not sure? Take a look and see.)
Luckily for us (and you!), there are plenty of fantastical new listens from Rick Riordan Presents; these fun middle-grade stories are based on mythology from around the world that listeners may or may not be familiar with. As Rick Riordan shared on his website, "Over the years, I've gotten many questions from my fans about whether I might write about various world mythologies, but in most cases I knew I wasn't the best person to write those books. Much better, I thought, to use my experience and my platform at Disney to put the spotlight on other great writers who are actually from those cultures and know the mythologies* better than I do. Let them tell their own stories, and I would do whatever I could to help those books find a wide audience!"
Not only will younger listeners devour these audiobooks, but adults will, too. Make sure you have these audiobooks in your collections for patrons of all ages to enjoy! Click here to see all of our Rick Riordan Presents titles.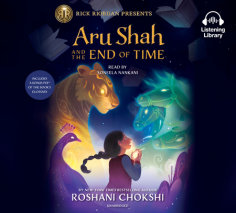 "Narrator Soneela Nankani's friendly voice skillfully conveys both the humorous and serious." —
School Library Journal
, starred review
"The abundant cultural references are deftly handled in a narrative that will leave listeners eagerly awaiting the heroine's next quest. —AudioFile
This Hindu-mythology-based adventure is about twelve-year-old Aru Shah. Her mom is off on another archaeological trip, so Aru is spending her school break waiting at the Museum of Ancient Indian Art and Culture. When she lights the museum's cursed Lamp of Bharata, Aru must figure out how to save everyone from the evil gods she unwittingly awakens.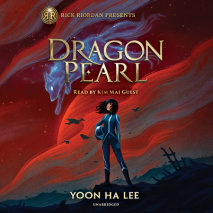 "Lee skillfully weaves Korean folklore into this space opera narrative, creating dynamic and relatable characters…A recommended purchase for all middle-grade collections." —
School Library Journal
, starred review
"Not only are Lee's characters refreshingly diverse both in race and gender identity, but the mythology mixed with sf means there is something for many readers to enjoy." —Booklist
This adventure with the underpinnings of Korean mythology is a space opera about thirteen-year-old Min, who comes from a long line of fox spirits. To keep their family safe, Min's mother insists that none of them use any fox-magic and appear human at all times. But then, Min's older brother disappears, supposedly in order to desert his battle cruiser post; it's something he'd never do. So, Min decides to run away, find him, and clear his name.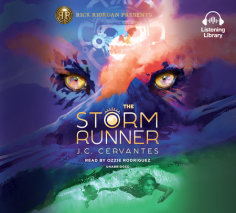 "Narrator Ozzie Rodriguez perfectly manages a mix of Spanish and American accents in this Mayan mythology-inspired adventure." —
AudioFile
"[A] well-written trip into the world of Mayan mythology, perfect for fans of David Bowles's Garza "Twins" and Rick Riordan's "Percy Jackson" series." —School Library Journal
Zane Obispo spends every day exploring the sleeping volcano in his backyard. One day, a mysterious girl named Brooks shows up at Zane's doorstep to tell him that the volcano is actually a centuries-old prison for the Maya god of death, whose destiny is directly tied to Zane's. Suddenly, he's thrust into a world of magic, gods, and monsters as he embraces his destiny.

Up next from Rick Riordan Presents: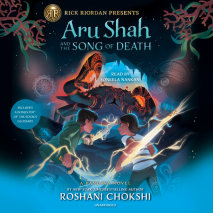 The sequel to Aru Shah and the End of Time is coming soon! Aru is only just getting the hang of this whole Pandava thing when the Otherworld goes into full panic mode. The god of love's bow and arrow have gone missing, and the thief is turning people into heartless fighting-machine zombies. Another problem? Aru is framed as the thief!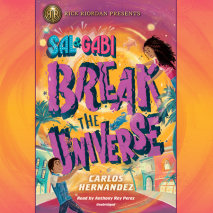 A brilliant sci-fi romp with Cuban influence that poses this question: What would you do if you had the power to reach through time and space and retrieve anything you want, including your mother, who is no longer living (in this universe, anyway)?