Collection Development
A Piglet Prequel! Announcing Kate DiCamillo's A PIGLET NAMED MERCY
Have Mercy! There's a new piglet in town. Your young porcine-loving patrons may already know Mercy from her buttered toast-eating, convertible-riding, crime-fighting adventures, but they don't yet know the story of how this pulchritudinous pig brought puckish joy into the lives of the erstwhile predictable Watsons. In the A Piglet Named Mercy audiobook, young listeners will learn how the Watson's lives went from ordinary to really quite extra-oink-inary with the arrival of one very small, very unpredictable piglet. Ideal for family listening in the car, before bed or nap time, or hanging out on a rainy day. Make sure to stock up on this newest edition to the Mercy Watson collection!
Listen to a clip from A Piglet Named Mercy, and browse more Mercy Watson audiobooks below.
---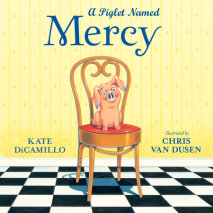 Every porcine wonder was once a piglet! Celebrate the joy of a new arrival with the prequel to the
New York Times
best-selling Mercy Watson series—on audio. Mr. Watson and Mrs. Watson live ordinary lives. Sometimes their lives feel a bit too ordinary. Sometimes they wish something different would happen. And one day it does, when someone unpredictable finds her way to their front door. In a delightful origin story for the star of the Mercy Watson series, a tiny piglet brings love (and chaos) to Deckawoo Drive—and the Watson's lives will never be the same.
"Narrator Mark Bramhall conveys the gentle humor and charm of the sweet story, creating distinct voices."—AudioFile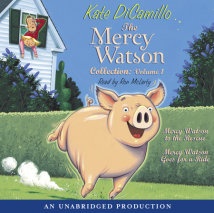 "Ron McLarty takes this beginning chapter book to soaring heights. His tone and inflection bring life to the simplest of sentences and unlock the wonders of nuance for the listener."—
AudioFile
Earphones Award Winner
Volume I Includes
Mercy Watson #1: Mercy Watson to the Rescue
To Mr. & Mrs. Watson, Mercy is not just a pig—she's a porcine wonder. And to the portly and good-natured Mercy, the Watson's are an excellent source of buttered toast, no to mention that buttery-toast feeling she gets when she snuggles in to bed with them. This is not, however, so good for the Watsons's bed. BOOM! CRACK! Welcome to the wry and endearing world of Mercy Watson.
Mercy Watson #2: Mercy Watson Goes for a Ride
Mr. and Mrs. Watson's porcine wonder, Mercy, loves nothing more than a ride in the car. It takes a fair amount of nudging and bribing and a "You are such a good sport, darling" to get the portly pig out of the driver's seat, but once the convertible is on the road, Mercy loves the feel of the wind tickling her ears and the sun on her snout.
Volume II Includes
Mercy Watson #3: Mercy Watson Fights Crime
One night, Mercy hears a noise. An unlikely thief is robbing the Watsons! But as the thief soon discovers, crime doesn't pay. Not when there is a very large pig involved.
Mercy Watson #4: Mercy Watson: Princess in Disguise
It's Halloween on Deckawoo Drive, and Mr. and Mrs. Watson have decided on the perfect costume for Mercy. Mercy is encouraged by the promise of treats. For what could be better than a treat-getting adventure? Especially if it happens to involve a chase…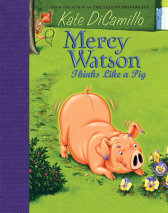 Volume III Includes
Mercy Watson #5: Mercy Watson Thinks Like a Pig
Eugenia and Baby Lincoln may live next door to a pig, but that doesn't stop them from living a gracious life. And the amiable Mercy Watson is equally determined to follow the delightful scent (and delicious taste) of the pansies her thoughtful neighbors are planting to beautify their yard. "Where have all the flowers gone?" shouts Eugenia, who is finally ready to take extreme measures and dial Animal Control! Has Mercy's swine song come at last? Or will her well-pampered instincts keep her in buttered toast?
Mercy Watson #6: Something Wonky This Way Comes
Mr. and Mrs. Watson and their porcine wonder, Mercy, are off to the Bijou Drive-In. What will happen when the Lincoln Sisters, Frank, Stella, and a gaggle of familiar characters get the same idea for a night out? With the tempting scent of hot buttered popcorn wafting through the air, everyone's favorite pig leads the way in this hilarious romp featuring movies, mayhem, and Mercy!
To find more audiobooks by Kate DiCamillo, CLICK HERE.