Guest Post, Interview
A Discussion With the Talent Behind The Distance Home
The Distance Home
, the debut from author Paula Saunders, has been called "an exquisite, searing portrait of family and of people coping with whatever life throws at them while trying to keep close to one another," in a starred review in
Booklist
. Recently, Saunders's novel was brought into the audio realm with the help of narrator Rebecca Lowman and director and producer Kelly Gildea. The trio answered questions about the recording process for bringing the very specific voice in
The Distance Home
to life.
Did you have a clear vision of the type of voice you wanted to cast? How collaborative was it with the author?
Director/Producer Kelly Gildea:
The Distance Home
is the type of book I crave. It's a quiet family drama, filled to the brim with character and emotion, but written so starkly. And with a lot of dry humor! You have to tread carefully with text like this. Anything over the top or heavy handed just won't do in this world. That's not to say these characters were suppressed (though sometimes they were), but the expression of their feelings was beautifully understated. I knew we needed someone smart, funny, and extremely empathetic to capture the right tone. See: Rebecca Lowman. Luckily, Paula immediately agreed!
Were you familiar with the recording process before this? Did you have a strong opinion on who should narrate?

Author Paula Saunders:
I was somewhat familiar with the process because I'd gone with my daughter to a nearby studio to record a few lines for George's
Lincoln in the Bardo
audiobook. (I was Mary Lincoln, which seemed fitting, and had only one line.) I really enjoyed being in the studio and saying my line over and over until the producer, Kelly Gildea (who, incidentally, won the Audie for her production of
Lincoln in the Bardo
), felt I'd got it right. So after my one line for that book, I did have some appreciation of the recording process.
As soon as I heard Rebecca Lowman's voice in the audio sample, it seemed to me that she was the one to narrate the book. Her voice had so much clarity, strength, and straightforwardness, which I felt matched the tone of both the main character and the general environment.
What was the most challenging aspect of this narration for you?
Narrator Rebecca Lowman: Well, spoiler alert, The Distance Home is at times heartbreaking. That presents a challenge in itself, just to get through it without crying
(or without crying obviously or audibly). But with a book as subtle as
The Distance Home
, there is also the challenge of keeping that subtlety in the audio. Paula Saunders writes with a very light touch, and to do justice to the book we have to replicate that light touch. So it's a constant eye toward restraint. There's sometimes a tendency toward putting a button on a chapter's end, for example. But the book itself is unadorned. So it's walking the line between being an engaging audiobook, which is performative, and being true to the print, which is an unsentimental (but emotional) study of a family in crisis. There's no one better than Kelly to have on the other side of the glass in that circumstance. She has a flawless ear for the tone of a book and what an audio production needs to do to honor that.
Similarly in a book like this, where there aren't good guys and bad guys, just people who do their best but obviously make many mistakes along the way, the most fun part is the dialogue. There's a thrill in flipping between points of view, being true to each character's experience and perspective.
What is it like listening to your book and hearing your words come to life? Does it change the way you think of certain scenes or characters?

Paula Saunders: It's just lovely to hear the words come to life. At the beginning of listening to the recording, I couldn't believe that those were the words I'd written and that they were working to make such a clear picture in my head. I was very pleased and happy to follow along. It was a wonderful experience. And I was really surprised by how engaging it was. That was the main thing.
When I'm writing, I'm always struggling with scenes and characters, struggling with what's coming across and how each character is being portrayed. But in listening to the book, I'm just content to be pulled along. I can relax into each scene, each character, and I find myself happy to be in that world. Sometimes I'm not sure a scene is as vivid as I wish it was, but in listening, maybe because I'm more at ease, the scenes seem to come to life.
What are you most excited for listeners to hear?
Kelly Gildea: I'm thrilled to introduce listeners to this debut novel by Paula Saunders. Here's a writer, like Elizabeth Strout, who can bowl you over, using the sparsest language to capture a person or a feeling so exquisitely. Rebecca did a masterful job with this one.
Listen to an excerpt of THE DISTANCE HOME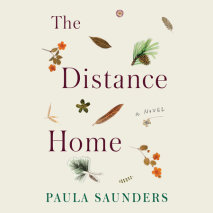 In the years after World War II, the bleak yet beautiful plains of South Dakota still embody all the contradictions—the ruggedness and the promise—of the old frontier. René shares a home, a family, and a passion for dance with her older brother, Leon. Yet for all they have in common, their lives are on remarkably different paths. And as René and Leon grow up, they grow apart. They grasp whatever they can to stay afloat—a word of praise, a grandmother's outstretched hand, the seductive attention of a stranger—as René works to save herself, crossing the border into a larger, more hopeful world, while Leon embarks on a path of despair and self-destruction.
"This beautifully written novel takes readers on a roller-coaster ride of emotions, delivering them to a place where painful memories live alongside hopes and dreams."—Booklist, starred review

Related Reading
Find
The Distance Home
and more outstanding debuts for your collection in our post:
August's Debut Authors to Listen To