Awards & Recognition, Collection Development
3 Diverse and Discussion-Worthy Listens Make the May LibraryReads List
Two dynamic debuts, plus the return of a popular fantasy series, will be topping May's holds. Be sure to offer these LibraryReads picks in all formats. And what better way to get a sneak peek at these upcoming titles, than by listening to clips from the audiobooks? Click here to view the full list of May 2019 LibraryReads selections!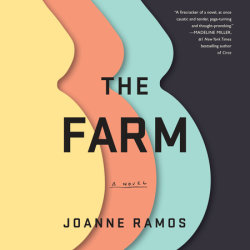 THE FARM
By Joanne Ramos
Read by Fran de Leon
LISTEN TO A CLIP: THE FARM
LibraryReads review: "What sounds like an easy way to make money while indulging in a spa-like oasis propels young pregnancy surrogates into ethically complex decisions, racial inequities, and new friendships. For those who loved The Handmaid's Tale and Future Home of the Living God."—Jesica Sweedler DeHart, Neill Public Library, Pullman, WA
NoveList Read-alike: A River of Stars by Vanessa Hua
Why try the audio? The main character Jane, an immigrant from the Philippines, is in desperate search of a better future when she commits to being a "Host" at Golden Oaks—or the Farm, as residents call it. Listeners will be immersed in this gripping and provocative listen, brought to life by actress Fran de Leon, who brings an authentic voice to this novel, having lived her early years in Manila, Philippines, before moving back to Hollywood.
Praise for THE FARM: "Told from the perspectives of the four women, Ramos' debut is so engaging that the reader might not fully understand the depths she probes until the book is done."—Booklist, starred review
"An exciting read about the politics of motherhood and female autonomy. Highly recommended for readers of both popular and literary fiction."—Library Journal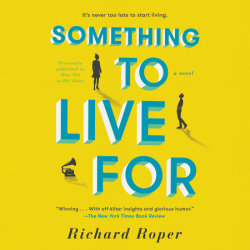 HOW NOT TO DIE ALONE
By Richard Roper
Read by Simon Vance
LISTEN TO A CLIP: HOW NOT TO DIE ALONE
LibraryReads review: "Andrew's Council job is finding people to pay for funerals for the recently deceased, and he seems bound to a similar lonely destiny. When lively Peggy joins the staff, he begins to wonder if there's more to life than model trains. Give to fans of Jojo Moyes, Nick Hornby, and Gail Honeyman."—Jennifer Knight, North Olympic Public Library System, Port Angeles, Washington
Why try the audio? There's nothing that award-winning narrator Simon Vance can't do. A favorite for his narration of popular titles by Anne Rice, Terry Brooks, and George R.R. Martin, just to name a few, here he showcases his humor alongside that propulsive storytelling talent that will keep us listening eagerly to every word. As AudioFile said recently of Vance, "listeners can't help but be mesmerized by the pictures he paints."
Praise for HOW NOT TO DIE ALONE: "A moving and funny look at grief, hope, and the power of human connections."—Kirkus
"Roper's delightful debut is as funny as it is touching."—Publishers Weekly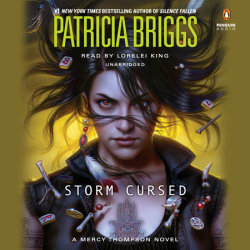 STORM CURSED
By Patricia Briggs
Read by Lorelei King
LISTEN TO A CLIP: STORM CURSED
LibraryReads review: "Mercy Thompson has opened her garage again and is trying to get back to normal. Now that the Tri-Cities is neutral ground, all kinds of supernatural beings are heading her way. If you're a Briggs fan, you're going to love this book and look forward to the next. For fans of the Walker Papers and Weather Warden series."—Helen Imre, Franklin Township Public Library, Somerset, NJ
Why try the audio? AudioFile raved about series narrator Lorelei King's performance in a previous audio in the series, exclaiming: "Her depiction of the wisecracking Mercy captures the essence of this series. King makes Mercy seem believable—not only as the fearless protector of family and friends against supernatural and human enemies, but also in her day-to-day activities as a VW mechanic." Check out this previous behind-the-mic post with Lorelei King.