Awards & Recognition, Video
2020 Odyssey Awards Speech: Nick Martorelli, audiobook producer of WE'RE NOT FROM HERE
By Nick Martorelli, producer of 2020 Odyssey Honor WE'RE NOT FROM HERE. Watch this year's Virtual Ceremony on ALA's YouTube page now! It premiered June 28th at 4:30 pm ET!
I am a huge fan of science fiction, of stories that transport us to new worlds and far-flung futures, yet always understand that – wrapped in starships and laser guns – those novels are addressing the concerns of the here and now.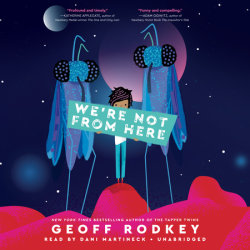 So when I first read Geoff Rodkey's WE'RE NOT FROM HERE, I instantly saw what he was doing—exploring the topic of immigration through a sci-fi lens, casting humans as the immigrants moving to a foreign, alien planet.
Set in the future, with humans moving from Earth to Planet Choom, this book could be about anyone, any child, any boy or girl, being forced to abandon the only home they've known and enter a strange new environment.
But the book also addresses issues of cultural diversity, of making friendships across lines of identity, and the importance and power of art. While speaking about strangers in the future, Geoff's book addresses our current moment here on Earth, all with the humor and light touch of a book for middle schoolers.
I am honored to have this audiobook recognized, and I want to thank Sharon Haupt, the Odyssey committee chair, and all the 2020 committee members for their many hours of thoughtful listening. And to ALSC, YALSA, and
Booklist
for their continued support and commitment to recognizing excellence in audiobooks.
I also want to thank Dani Martineck for their stellar, thoughtful performance that brings the book to life, Maureen Monterubio for her insightful direction, and of course, Geoff Rodkey for giving us an amazing adventure to take.
Now, more than ever, we need books to expand our horizons, introduce us to new ideas, and continue to take us to the strange new worlds we might only dream of. Thank you.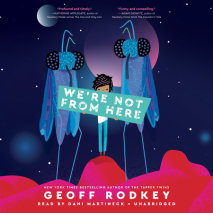 Imagine being forced to move to a new planet where YOU are the alien! From the creator of the Tapper Twins, New York Times bestselling author Geoff Rodkey delivers a topical, sci-fi middle-grade novel that proves friendship and laughter can transcend even a galaxy of differences.
The Odyssey Committee said:
"The fate of humankind rests on the Family Mifune, desperately seeking asylum on Planet Choom. Narrator Martineck shares the Mifunes' precarious situation with well-timed comic relief as our protagonists navigate hostile inhabitants. 'Everyone agrees' it's an emotional roller coaster ride, leading to interspecies cooperation and understanding."
Also a Booklist Editors' Choice Youth Audiobook of 2019:
"This audiobook is truly brought to life by non-binary actor Martineck, whose ability to create voices for the multitude of characters (most of them aliens) is an amazing feat."
—Booklist, starred review
WATCH THE CEREMONY
Click here to read the speech for our other 2020 Odyssey Honor, SONG FOR A WHALE.