Awards & Recognition, Video
2020 Odyssey Awards Speech: Aaron Blank, audiobook producer of SONG FOR A WHALE
By Aaron Blank, producer of 2020 Odyssey Honor SONG FOR A WHALE. Watch this year's Virtual Ceremony on ALA's YouTube page now! It premiered June 28th at 4:30 pm ET!
Books that I have a connection to and resonate with me are the most meaningful to produce. SONG FOR A WHALE is just that sort of book.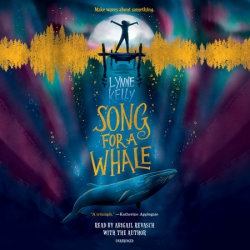 I've always felt a little bit like an outsider in life, so of course I fell in love with Lynne's book from the dedication, "For everyone who's ever felt alone." As a kid I loved to tinker and fix things (I still do) and that made me connect with Iris, the voice of this story, even more. Her discovery at Bridgewood Jr. High of its deaf teachers is a very touching moment, and the parallels between the Whale, known as Blue55, and Iris resonate deeply with me. I think they also will for anyone who feels like they've ever been excluded.
I would like to thank the Odyssey committee and chair Sharon Haupt for recognizing SONG FOR A WHALE, as well as ALSC, YALSA, and
Booklist
for their support of this award.
None of us would be here today without two people: Lynne Kelly and Abigail Revasch. Lynne: our gifted, talented and caring author. When considering voices, you and I were on the same page that Abigail was the perfect narrator. Abigail, you gave each character a subtle tone and uniqueness that's delicate and very appropriate, including Iris's one spoken line, "Hi, it's Iris. I'm here." My job as producer is to bring the best players to the stage and give them room to work, so I must thank our director as well, Andrea Kaufman.
Thank you all for this honor and for your commitment to outstanding audiobooks.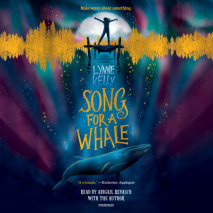 In the spirit of modern-day classics like Fish in a Tree and Counting by 7s comes the story of a deaf girl's connection to a whale whose song can't be heard by his species, and the journey she takes to help him.From fixing the class computer to repairing old radios, twelve-year-old Iris is a tech genius.
The Odyssey Committee said:
"Revasch's narration honors the linguistic beauty of American Sign Language by emulating the experience of listening to a person who is simultaneously speaking and signing. On this journey fraught with frustrations and surprising joys, the desire to belong plunges Iris and Blue 55 on an insightful mission of communication."
"[Revasch] expressively narrates Iris's ASL conversations and mental musings…conveys the linguistic beauty of ASL in this insightful glimpse of deaf culture."—AudioFile Earphones Award
"Revasch superbly captures headstrong Iris…Interludes narrated from the whale's point of view are voiced with deep and contemplative tones. The story is followed by two author's notes read by the author…will be a hit with middle-grade listeners."—Booklist

WATCH THE CEREMONY
Click here to read the speech for our other 2020 Odyssey Honor, WE'RE NOT FROM HERE.